McGloins Hot Water Bottle (Assorted Colours) 2L helps relieve aches and pains and can provide temporary relief of sprains and bruises.
Please Note: Colour/design is selected at random, we cannot guarantee which colour you will receive in your order
Regular price
Sale price
$8.79
Unit price
per
Sale
Sold out
Always read the label and follow the directions for use.
Made of natural rubber (over 60% rubber content) for superior strength, Large size for even heat distribution.

Safe and natural rubber hot water bottle.
Manufactured under supervision to conform with British and Australian standards
High quality rubber for superior strength
Warm and soothing
Use hot water to relieve aches and pains
Use ice water for temporary relief of sprains and bruises

Manufactured under supervision to conform to BS:1970:2006 & ACCC 2008/71.

Directions

When filling the hot water bottle, do not use boiling water and fill to a maximum of two thirs capacity or less. Recommended water temperature not to exceed 42 degrees celcius. Hold the neck of the bottle in an upright position and fill slowly to avoid hot water splashing back. Expel air from the bottle by lowering it carefully onto a flat surface until water appears at the opening. Screw the stopper sufficiently tight to ensure that there is no leakage. Fight tight should be adequare. Do not overtighten as this may damage the seal. Finally make sure the funnel is empty.

If there is a possibility that prolonged contact with the skin could occur, an adequate cover should be used to prevent burns.

Under no circumstance should the hot water bottle be used as a cushion and be sat upom. Do not fill using water from the domestic hot water system as this can considerably shorten the life of the hot water bottle. Prevent contact with hot surfaces and naked flames. Do not use in microwave ovens. Prevent contact with oil and grease.

When not in use, drain completely and keep, with the stopper removed in a cool, dry, dark place. Prevent exposure to sunlight. Do not place anything on top of the bottle, including sharp or heavy objects. Check the bottle and the stopper for wear and damge at regular intervals.

Warnings

Do not use boiling water (maximum 42 degrees celcius)
Hot Water bottles can cause burns
Avoid prolonged direct contact with the skin
Plastic bags can be dangerous. To avoid danger of suffocation, keep this bag away from babies and children
This hot water bottle is designed to be partially filled

Always read the label & use only as directed. If symptoms persist, please consult your healthcare practitioner.
View full details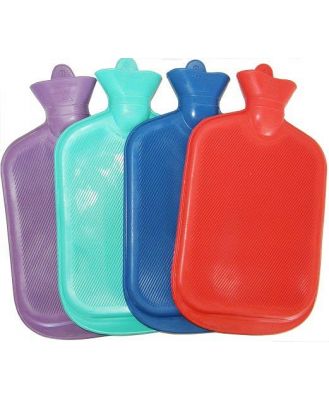 Real People.
Real Results