Moderate-support design offers customisable levels of support and compression
Dual pull-cord system provides a personalised fit for all-day comfort
Removable lumbar pads let you customise cushioning and support
Side stretch panels resist bunching and slipping to minimize distractions
Regular price
Sale price
$76.99
Unit price
per
Sale
Sold out
FUTURO Adjustable Back Support with Dual Pull Cord System and Removable Lumbar Pads for Moderate Support

Keep back pain and discomfort at bay with FUTURO™ Adjustable Back Support. Designed to make daily chores effortless, this back support brace, with contoured design, provides customisable compression for optimal lower back support. The removable lumbar pads with cushion provide stability and allow customisation of support. The side stretch panels ensure non-slip grip while the dual pull cord system with durable lacing facilitate personalised fit. The two straps with hook and loops aid in a firm hold. Made of breathable material, this lumbar support brace allows airflow for day-long wear. The back brace is washable too.​Regular use of this adjustable back support can help support stiff, strained or aching back. Use it during everyday activities, when you have to bend or lift things.

Moderate-support design offers customisable levels of support and compression
Dual pull-cord system provides a personalised fit for all-day comfort
Removable lumbar pads let you customise cushioning and support
Side stretch panels resist bunching and slipping to minimize distractions
Breathable materials enhance airflow to help keep skin dry
Anatomical design allows full range of motion
Easy-to-use design for hassle-free relief
Supported by our expert panel of engineers and medical professionals
Size: Adjustable
Colour: Black

Support your back and abdomen while you work out with this adjustable back support. Two hook-and-loop straps with centre lacing over the middle of the spine will allow you to customise the fit, while the optimised support will help provide relief from stiff, strained and aching back.

If you experience back pain and discomfort after long hours of sitting at the workplace, this back support is just what you need to find relief from these symptoms.

Constructed with breathable, materials, this back support sports a contoured design that provides relief to your lower back and lets you move naturally throughout your day.

How to Wear

Step 1. Remove pads on inside of support if desired. Center lacing over middle of spine.

Step 2. Wrap panels around waist and secure hook and loop in a comfortable, but snug position.

Step 3. Release pull cord straps on each side and pull in an outward motion until the brace is at desired level of support. Bring pull straps forward and secure. Adjust support as needed.

Care Instructions
Secure all straps prior to washing. Hand wash with mild soap in warm (not hot) water. Rinse well and air dry.

DO NOT: machine wash, tumble dry, dry clean, or use bleach or fabric softeners.

Always read the label & use only as directed. If symptoms persist, please consult your healthcare practitioner.
View full details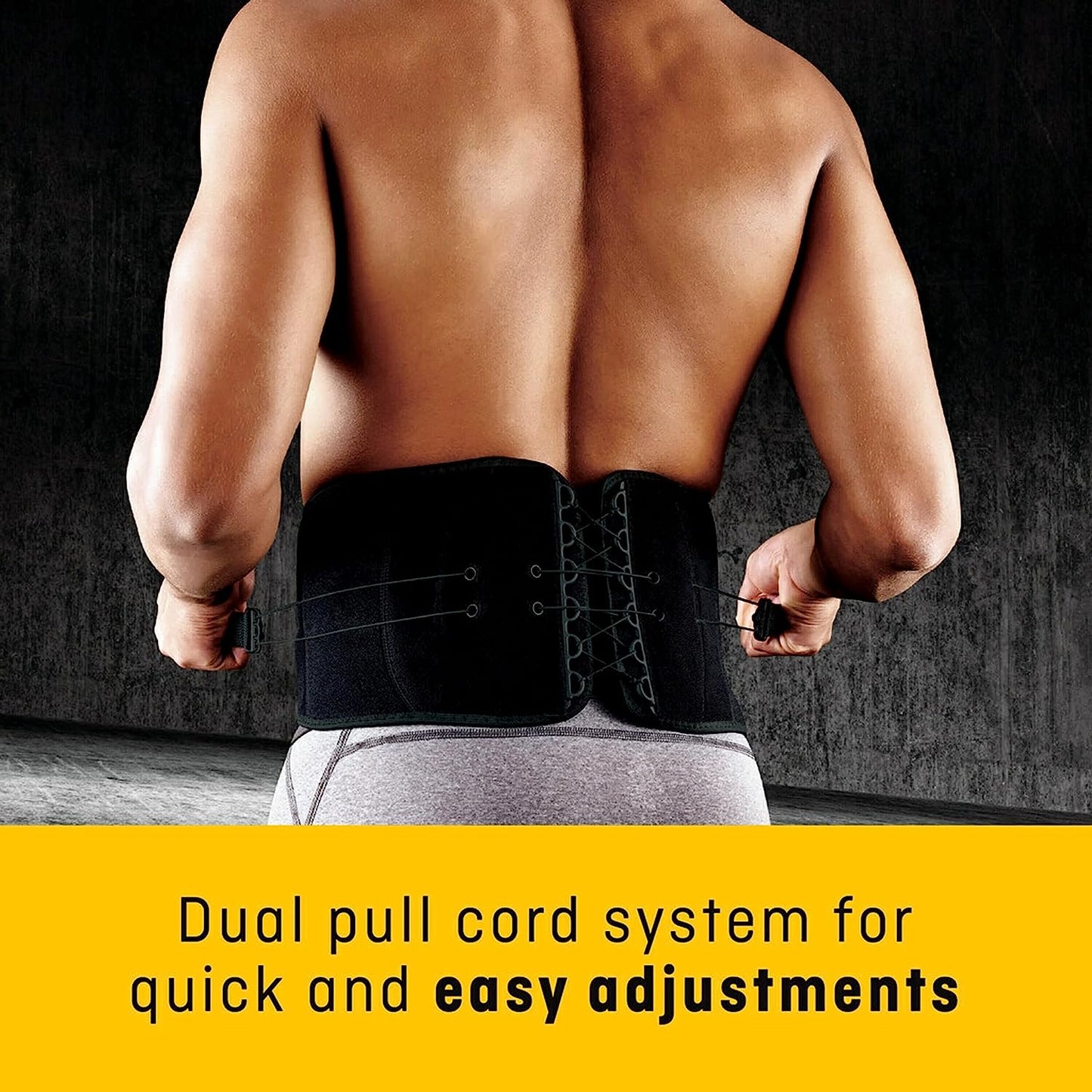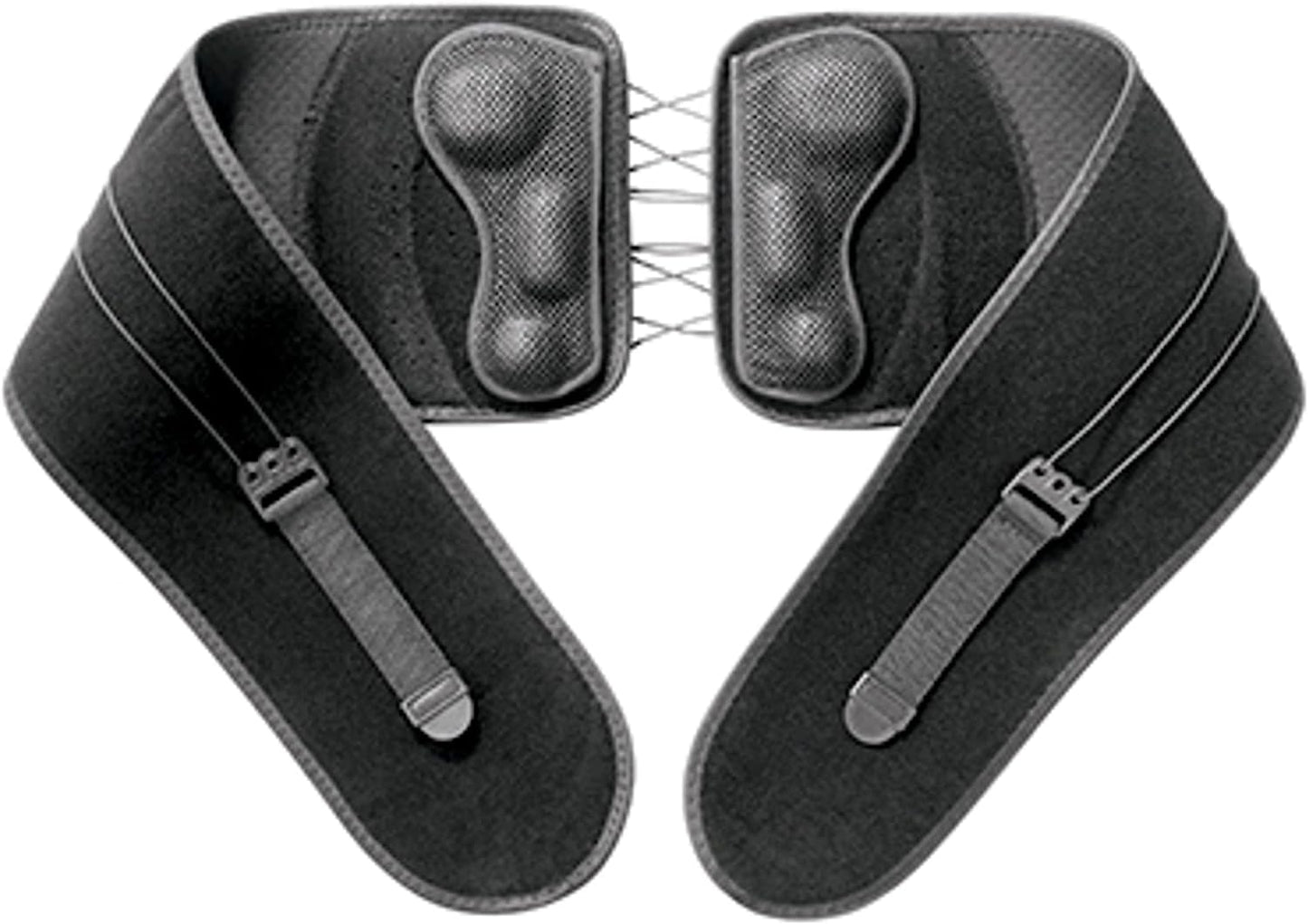 Real People.
Real Results