Regular price
Sale price
$19.99
Unit price
per
Sale
Sold out
PodiMe Bunion guard separators have been created with a soft durable gel that protects your bunion from repetitive friction taking place from footwear , whilst preventing the big toe from overriding the second toe.

Cushioning the side of your Hallux (Big Toe) and preventing discomfort which comes from rubbing the side of the toe, making it great to absorb friction and also increased pressure.

Enjoy comfort of your bunion without surgery so you can continue with your active lifestyle

Made with high quality gel which is reusable and washable.

One size fits all 2 X PodiMe Bunion Separators in each pack.

What do PodiMe Bunion Guard Separators do?

PodiMe Bunion Guard separators can help prevent overlapping toes. Although they do not cure bunion, they can decelerate the progression of bunions. If bunions are left alone, they may become painful and may require surgery as they progress.

How long should you wear PodiMe Bunion Guard Separators?

You may wear bunion guard separators all the time as they are generally comfortable. If you find them uncomfortable, you may wear the PodiMe Guard Separators for a short amount of time and then you can gradually lengthen the amount of wearing time. Other people choose to only wear them in enclosed shoes.

Can you wear PodiMe Bunion Guard Separators while wearing your shoes?

Yes, continue to wear the shoes you want to wear. The PodiMe Bunion Guard Separators are made from soft, soothing gel and they are strong too so they will last. Unlike rigid bunion products, these can be worn comfortably during any activity.

Can PodiMe Bunion Guard Separators be washed?

Yes, they are washable and can be re-used. They can also be wiped using alcohol-based wipes.
Always read the label & use only as directed. If symptoms persist, please consult your healthcare practitioner.
View full details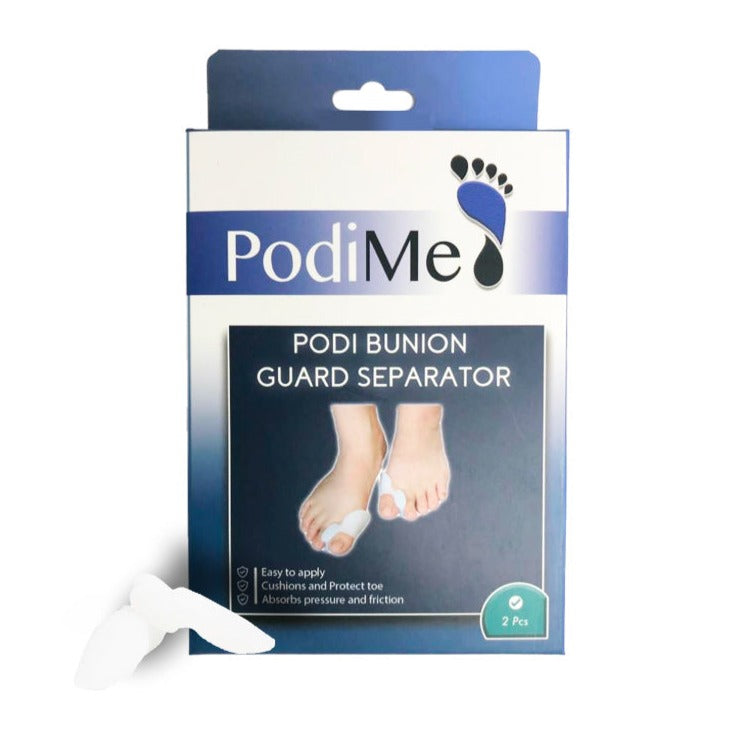 Real People.
Real Results